Tarim ve Teknoloji Günleri field event successfully concludes with 15 million Euro farm investments
Last week, DLG's 11th edition of Tarim ve Teknoloji Günleri field exhibition, the third DLG in-person field event in Turkey this year, ended on a high note attracting 18,000 specialist visitors. An estimated 15 million Euro of orders were placed over the four-day event, which housed 93 exhibitors presenting crops in 18 trial plots that were accompanied by displays and information on input material in booths.

French National Federation of Maize and Sorghum Seed Production with sorghum plot
For the first time, a new trial plot dedicated to sorghum varieties was presented, which was organized by the French National Federation of Maize and Sorghum Seed Production. Sorghum cultivation is increasingly interesting to Turkish farmers as the crop is drought-resistant and tolerates herbicide well. These factors make the crop interesting to farming professionals in Turkey. Livestock products and live animal breeds were also presented at the event and several exhibitors chose the event for new product launches that took place alongside live machinery demonstrations.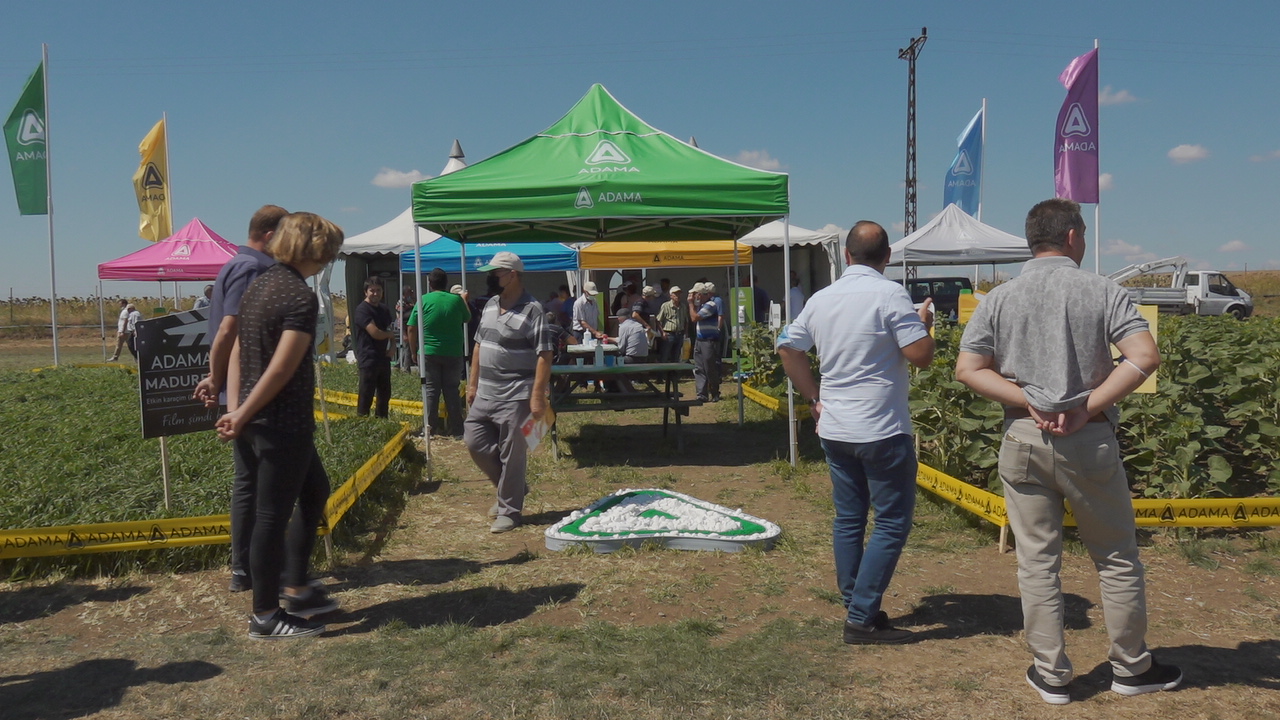 15 million Euro orders placed
"Our exhibitors are satisfied that Tarim ve Teknoloji Günleri attracted so many visitors representing professional farmers, who came with clear buying intentions. Our initial estimate is that at least 15 million Euro worth of business volume was conducted. This is based on the figures which exhibitors publicly post at the trade fair over the four days. This suggests that exhibitions for farmers are a place where final strategic investment decisions are made. We believe this is because farmers, being practical, prefer to inspect the product and talk to experts before finally buying, but above all we believe this indicates strong investment intention in our industry," says Onur Kiraz, managing director of DLG Fuarcilik.
"Furthermore over 18,000 visitors during these challenging times is a very satisfying turnout, and in the circumstances this is, therefore, more than an excellent result. Farmers in Turkey have been busy visiting DLG exhibitions this year as this is our third event in 2021," added Onur Kiraz.
Meeting platform for farmers and product launch venue for exhibitors
Exhibitor Adama and other innovative companies took advantage of the exhibition to launch products, recognizing the advantage of presenting solutions on-site directly to customers, who may inspect the products and ask questions in person.
At the opening ceremony, Kadir Albayarak, the mayor of Tekirdag, and Asalet Karabulut, governor, delivered the welcome address. Farmers and numerous representatives from agricultural organizations were in attendance. The message was clear: With each year that the Tarim ve Teknoloji Günleri takes place its position as a crucial meeting platform for professionals in the region strengthens.
Tarim ve Teknoloji Günleri event was held 1-4 September 2021 in Terkirdag, an important agricultural region in Turkey that focuses on summer crops such as sunflower, maize, fruit, and vegetables, which were also the crops amply demonstrated in the trial plots. The trade fair offers the opportunity to local seed producers to make contact for the upcoming season. Fertilizer and crop protection companies are also represented.
Proven hygiene concept
The organizers of the trade fair, DLG Fuarcilik, employed the same proven hygiene concept it had developed and implemented for its DLG trade fairs "International Field Days Turkey" and "Potato Days Turkey" held in May and August respectively. The concept, which included social distancing measures and a new and convenient grounds entry mechanism, allowed visitors to inspect the technical equipment and crop as well as enjoy the trade fair that offered networking within the bounds of the exhibition concept.
Since 2010, a range of successful DLG trade fair concepts has been implemented in Turkey with various adaptations to local conditions. DLG headquartered in Frankfurt, Germany, has been involved in Turkish agriculture since 1988, starting with a project to further knowledge among professional farmers in the Thrace region. A series of successful agricultural farmer projects followed, which culminated in the establishment of the DLG subsidiary DLG Fuarcilik in 2009, focusing primarily on exhibitions and events to bring knowledge to professional farmers. DLG International has subsidiaries in 12 countries.
The next DLG Tarim ve Teknoloji Günleri will takes place in Turkey from 31 August to 3 September 2022.