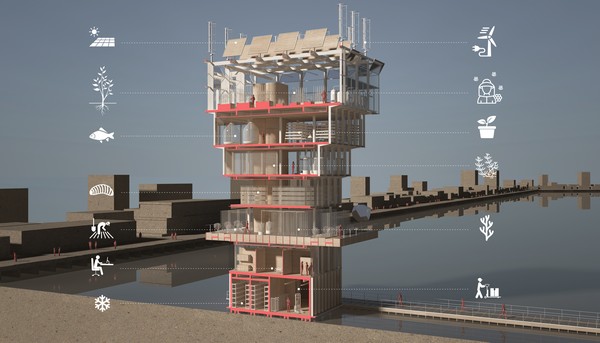 In the wake of last year's fire that tore through France's Notre Dame Cathedral, design studio founder Nicolas Abdelkader was one of many designers and architects who came up with ideas for a new spire and roof for the Parisian landmark. He proposed turning the top of the iconic cathedral into a greenhouse complete with beehives.
Now, Abdelkader has come up with an idea for vertical urban farms of the future. Instead of producing salad vegetables, his vertical farms would produce a wide range of food with high nutritional value such as honey, fish, insects and algae. The Superfarm project would also strive to recreate an ecosystem in an urban environment through features such as beekeeping and an aquaponics system.
Fish such as tilapia would be reared in a recirculating aquaculture system where water is largely reused after treatment. The waste produced by fish would be used as nutrients for plants. Algae such as spirulina and chlorella would be produced in bioreactors, and different plants such as would be grown. The farm would be powered by wind and solar energy.
Consumers would be able to buy produce directly from the farm and deliveries to households, restaurants and other customers can be done on tricycles, Abdelkader said.
Powered by wind and solar energy, the farm will have an aquaponics system to produce fish and plants such as aloe vera, goji berries and ginseng. It will also produce nutrient-packed algae in bioreactors.