(DLG). The DLG (German Agricultural Society) has honoured the winners of the "DLG Agri Influencer Award" for social media at the Young Farmers Party at the Agritechnica 2023 exhibition, Hanover, Germany. The awards, which were presented to German-speaking and international influencers in three categories, aim to both recognize interesting and high-quality agricultural social media channels and present them to a wider public.
As the jury's decisions were close in some cases, other notable channels were named as "Honorable Mentions" in addition to the award winners. A social media pioneer was also awarded a special award. Freya von Czettritz, CEO of DLG Holding GmbH, and Felix Hollmann, Chairman of the Junge DLG ("Young DLG"), presented the awards at the Young Farmer's Party.
"Social media is an important communication tool, especially for farmers, as it can build bridges to society and the traditional media," said von Czettritz, who is active on many social media channels herself. "There is a lot of talent here, whose messages and activities can help bring practical agriculture closer to people in the cities."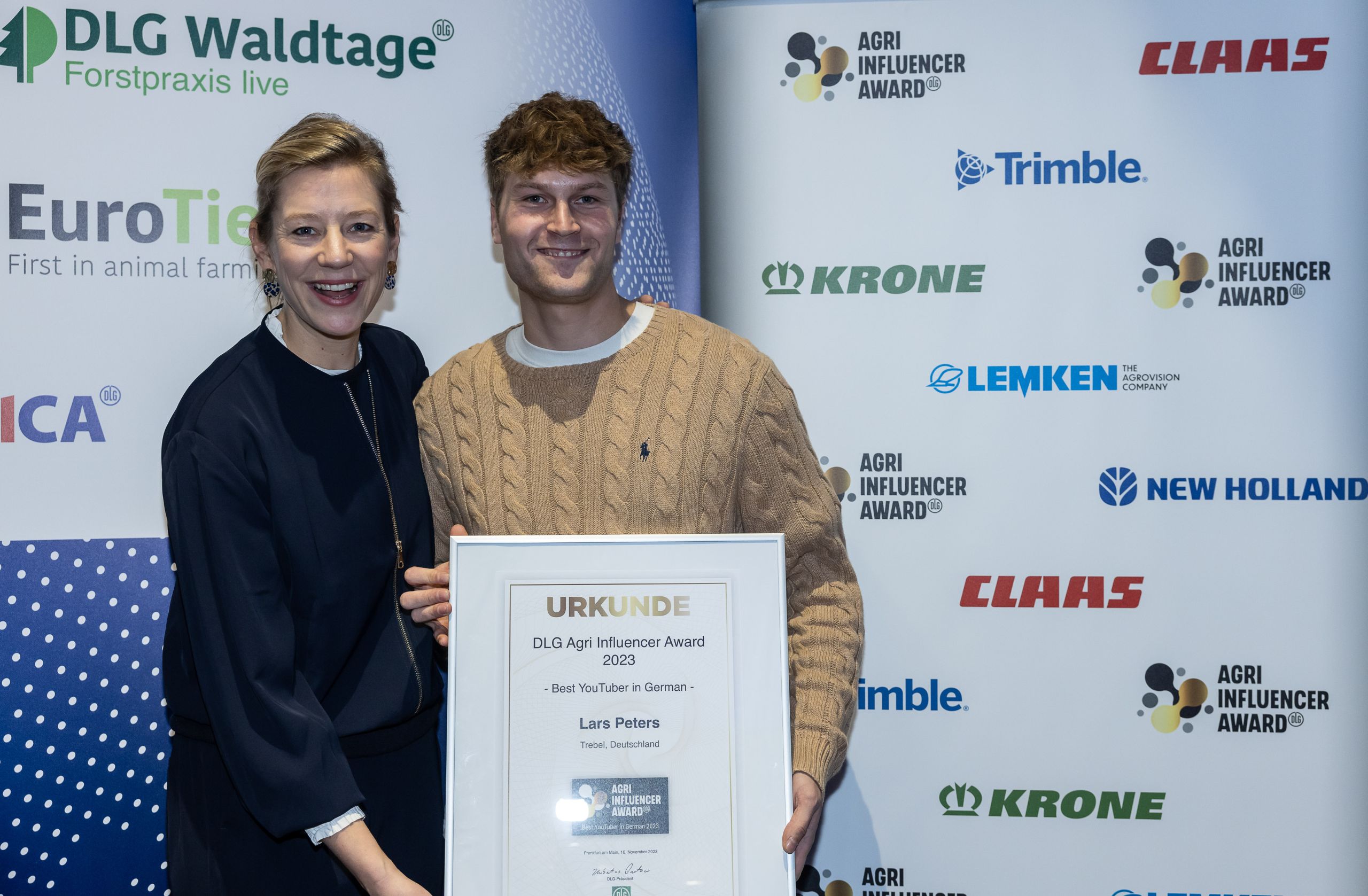 DLG Agri Influencer Award: Winners 2023
DLG Best Agri YouTuber International: Oliver Harrison
Jury statement
The jury considers Oliver Harrison and his YouTube channel @OllyBlogsAgricontractfarmer to be an influencer in the truest sense of the word. Not only has he been posting a new video every day since lockdown in March 2020, covering all aspects of his everyday life on the farm, but he also drove 940 miles across the British Isles in a combine harvester to raise awareness of the importance of mental health, raising over £100,000 for mental health and for child cancer initiatives. In addition, Oliver leverages his social media presence, sending birthday wishes in his videos in exchange for a charitable donation. He also interacts extensively with his online community, through several initiatives, including a daily check-in for mental health in farming under the hashtag #AnswerAsAPercent.
Oliver Harrison hails from Tarbock in the North West of England and currently has 102,000 followers on YouTube.