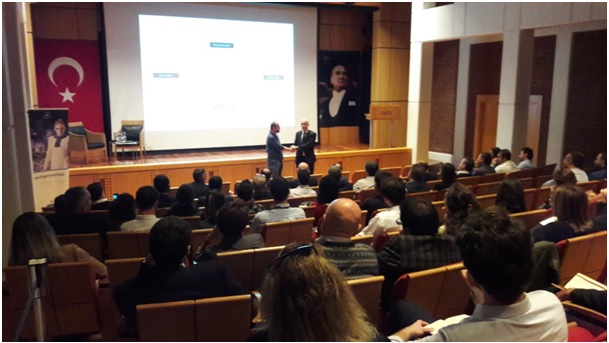 Turkey, as a fast developing economy with its dynamic and young population with great potential, lies as an opportunity nearby Italy, where Italy, with it's well settled industry, innovative products and high-tech companies, still remains as the most cooperative partner for Turkey, not only in mediterenean region but in EU Zone also. Today, there are more than 1.400 Italian Companies already located in Turkey, whereas, more than 50 big Turkish Companies have invested Italy, only in the last 3 years. Having seen this, Promotec is doing it's best, to speed up this business integration between two countries. In that respect, one can say that, depending on the recent years promotion efforts in the Turkish Market, Autopromotec Exhibition is much more known and recognized in Turkey compared to 5-10 years ago. In order to increase the brand awareness for Autopromotec Brand and the participation to the up-coming edition of the show, which will be organized on 22-26 May, 2019, Autopromotec'19 Roadshow was organized in Gebze, Bursa and Izmir Cities of Turkey, betwen 31 Oct-2 Nov, by Sancar Consulting ltd, who is the Turkish Market Consultant of Promotec Exhibitions in Turkey.
The local partners, GOSB-Gebze Organized Industrial Zone, UIB – Uludag Exporters Association and EBSO – Aegean Region Chamber of Industry hosted the Autopromotec'19 Roadshow seminars where the biggest companies of Turkish Aftermarket Industry were met. During the promotion of the roadshow, more than 5000 companies were contacted and informed about Autopromotec'19 Exhibition and the roadshow. The theme of the roadshow was ''effective communication skills for international success in automotive industry'' and was given by Alberto Castelvecchi from Luiss University of Rome. During the seminars, the participants had the opportunity to hear about the very impressive ''facts and figures'' and the vast business size from Mr. Adnan Tolga Sancar, which Autopromotec Exhibition offers to it's participants in Bologna Exhibition Center once an every two years. A short video of Autopromotec Exhibition was also presented to the audience, as well.
For the 3 days roadshow, over 5000 companies were contacted and fully informed about Autopromotec'19 by e-mail, phone or e-bulletins and in the end, over 150 top executives of Turkish Automotive After Market Industry were hosted in the seminars. At the end of the roadshow, all parties were seen to be truly satisfied.
Italy, as being one of the most developed countries in euro zone on one side, and Turkey as being one of the fastest growing economies of the world on the other side, are still setting big oppportunities for each other and Autopromotec is undoubtedly, is a great event bringing these two business oriented countries more closer than ever today.