At Agritechnica's stand T95 on 6 and 7 September in Kain-Doornik, Belgium; Agritechnica on tour stop – Agritechnica 2023 to present potato equipment in hall 25.
At Agritechnica's stand T95 in the 'common tent' at the PotatoEurope exhibition on 6 and 7 September held in Kain-Doornik, Belgium, farming professionals are invited to learn more about Agritechnica 2023, the world's leading agricultural machinery trade fair, which takes place in autumn in Germany.
Agritechnica presents the whole range of agricultural machinery
This year organized by the Belgian agricultural machinery association Fedagrim, PotatoEurope, an annual field event at alternating locations in Europe, presents practical field solutions to European potato producers. Topics like erosion and drought control can be explored by farmers, who will also be looking for exhibitors' solutions ranging from new seed potatoes to harvesting, including field techniques presented as machinery demonstrations. Agritechnica, which takes place in Hanover, Germany, 12-18 November, will present market-ready potato equipment, like harvesting machines and storage systems, that can be inspected close-up in hall 25.
Offering the world's most comprehensive and varied trade fair program for international arable farming, including potato cultivation, Agritechnica presents the whole range of agricultural machinery, from crop protection sprayers to drones, from tractors to autonomous equipment systems and from combine harvesters to digital assistance systems.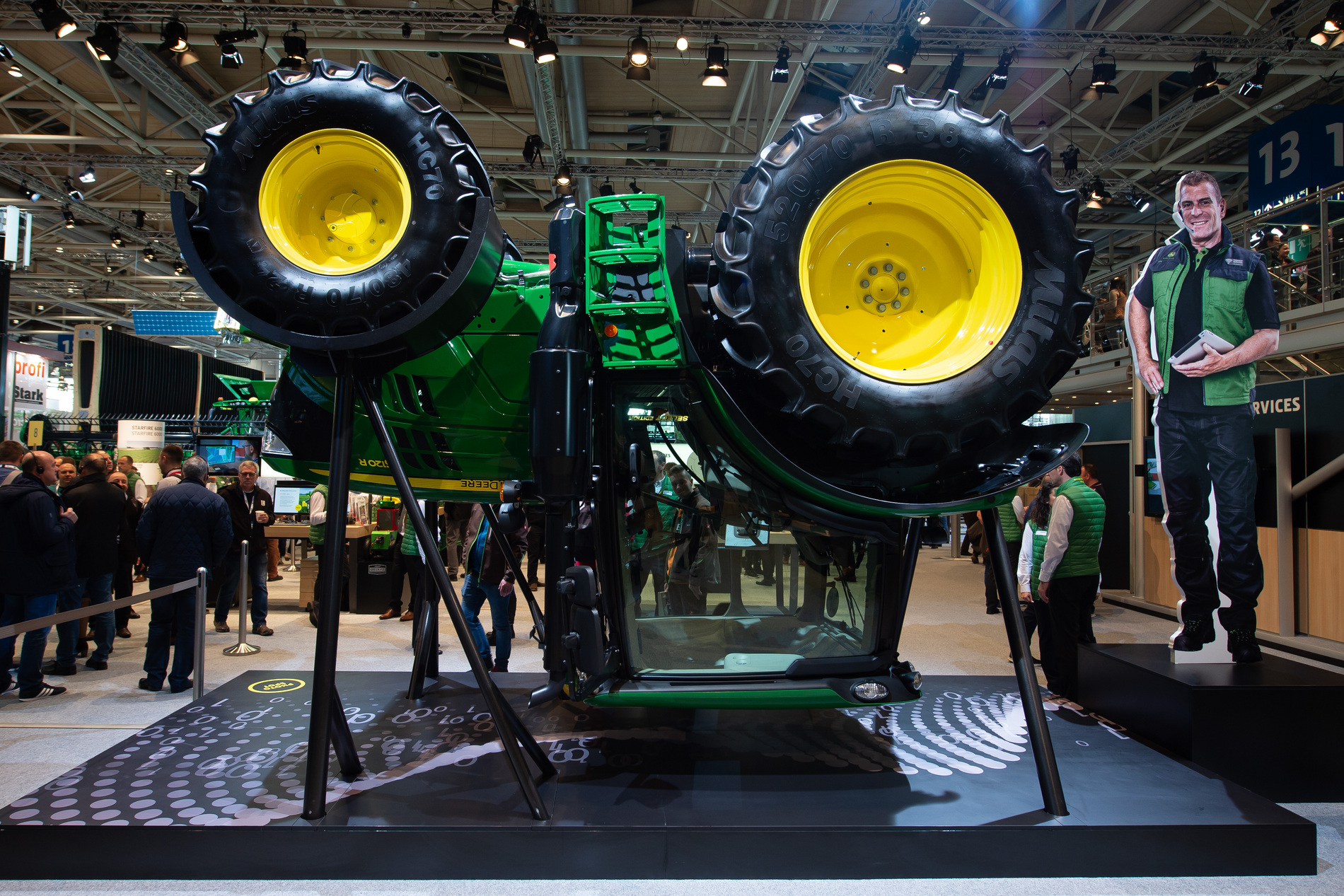 As all the leading farm equipment manufacturers have already registered as exhibitors, including Grimme and Dewulf, potato professionals visiting Agritechnica can be sure to see the full range of machinery solutions on display.
Can be found as present market-ready innovations at the trade fair
With more than 2,600 expected exhibitors across 24 halls on over 400,000 square meters of exhibition space as well as a broad international technical program with more than 300 presentations, Agritechnica 2023 retains its place in the world as the largest exhibition for agricultural machinery.
With the theme "Green Productivity" denoting how new concepts and pioneering innovations ensure agricultural productivity while protecting nature, climate and the environment, Agritechnica's technical programme offers hundreds of interactive presentations.
A key draw for farmers are the many innovations at Agritechnica, which offer increased efficiency and other benefits for practical farming. Over 250 world premieres, a criterion for candidates in the prestigious Agritechnica innovation award scheme, can be found as present market-ready innovations at the trade fair. Past potato equipment award-winners include the four row self-propelled potato harvester from Grimme and the joint award for Grimme and Ropa for solutions enabling automated potato harvesting.
 Dutch and Belgian participation in the top ten
With over 18,000 visitors from Belgium and the Netherlands, the participation from this region is in the top ten. DLG Benelux together with RVO The Netherlands Enterprise Agency and BOM Brabantse Ontwikkelingsmaatschappij B.V. is organising a country pavilion for the Netherlands at Agritechnica 2023.
The stand at PotatoEurope is part of Agritechnica on Tour. DLG (German Agricultural Society), organizer of Agritechnica, hosts PotatoEurope in Germany every four years with Belgium, France and the Netherlands providing a venue for other years. At the PotatoEurope field trade fair in Belgium on 6 and 7 September, the entire European potato industry will gather to explore solutions from new seed potatoes to harvesting techniques. More information 2023 Edition | PotatoEurope. Potato farmers and farm professionals planning to visit Agritechnica can now explore the preliminary exhibitor database, which already lists over 2,500 exhibiting companies from 53 countries.
 In addition to exhibitors' offerings, practical topics at Agritechnica are featured, including:
 Smart farming
Automation-enabling technologies for efficient field work
International Farmers Day – Focus on Poland and France
Explores topics in these regions
DLG.Prototype.Club
Engineering teams solve technical challenges set by exhibitors
Agrifood start-ups
Entrepreurial startups with inventions
Systems & Components
Farm equipment suppliers with components, engines, drivetrains and spare parts
Inhouse Farming Feed & Food
Self-contained food production systems like vertical farming
Agritechnica is organised by the DLG (the German Agricultural Society). Headquartered in Frankfurt, Germany, the DLG strives to increase professional knowledge in agriculture across borders, its objective since the society was formed in 1885.
With over 30,000 members today, DLG is a politically independent and non-profit society with membership open to all. Drawing on an international network of experts in food and agriculture as well as subsidiary companies in nine countries, the DLG organises over 30 regional arable and livestock exhibitions worldwide, in addition to its leading international trade fairs, EuroTier for livestock farming, and Agritechnica for agriculture machinery and plant production, each taking place biennially in Hanover, Germany, as well as PotatoEurope every four years.