Agrible and Crop Copter are two Central Illinois companies teaming up to change how growers collect and share information about their fields. They are going one step further to bring you aerial-insights with the power of Morning Farm Report and Crop Copter drones, right to your fingertips.
Agrible, a team of agronomists, atmospheric scientists, and developers share an awesome goal: Transform the future of farming. Agrible is focused on helping growers realize the promise of big data and technology. Since opening their doors in 2012, Agrible continues to provide growers with the tools to increase their productivity, efficiency and sustainability.
Matt Barnard, founder of Crop Copter, couldn't be happier about the partnership.  "Agrible is quickly establishing themselves as a driving force in agriculture with their ability to combine weather, fertility, and spatial information to accurately predict a growing crops' potential."   According to Barnard, "UAV technology should be used to validate assumptions in the field and this relationship with Agrible will allow us to predict and validate real-time information seamlessly."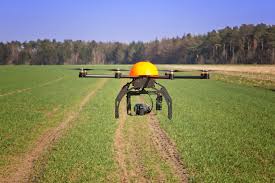 Currently, Crop Copter and Agrible are working to create software and hardware that allows UAV data to be captured and analyzed real time in the field, with a focus on ease of use and seamless sharing of information.
For the UAV industry, the relationship between Crop Copter and Agrible marks one of the first times that a farm analytics and UAV company has worked together to create hardware and software to be mutually beneficial to each other.  "There has been a lot of collaboration within the UAV industry working to tweak offerings or allow information to flow between APIs," according to Barnard.  "To date the industry is just trying to get its legs.  Our relationship with Agrible will allow us to use Morning Farm Report to help predict a crop's potential, using UAV technology to confirm or validate that prediction, giving the grower to the opportunity to make the best decision for their operation.  This is completely new to the industry.  We couldn't be more excited," said Barnard.