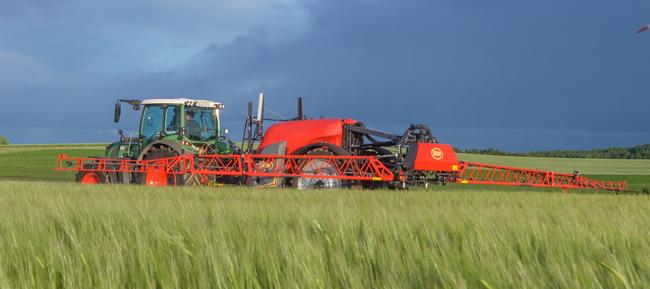 Specification includes a suspended parallelogram rear frame that also remains active on the road, in addition to the field. This innovative design combines stability with soft boom balancing to minimise spray height deviation above the crop canopy and improve application accuracy.
A revised tank design, new chassis and rear frame all combine to deliver an overall width of 2.55m and an overall height of 3.2m. The steering axle provides adjustable track width in 5cm increments from 1.5-2.25m. Tyre choices extend up to 1.9m in diameter, giving a longer footprint for reduced compaction.
Developed with operator-friendliness in mind, iXtrack T3 is fully ISOBUS compatible and with new iXspray hardware and software, operators can take advantage of an intuitive touchscreen with smart electronics. IsoMatch Grip adds further control, with up to 44 fully customisable functions available from a single joystick.
ErgoDrive headland management is part of the standard specification, and allows boom raise/lower and axle steering to be managed by a single button press. Optional GEOLIFT with the advanced IsoMatch Tellus Pro terminal can transform this into an automated function, taking its commands from a GPS signal.
Nozzle control includes pneumatic or electric operation, suiting those using GPS for automatic section control and auto start/stop at headlands. The introduction of GEOSPRAY takes this a stage further, and brings individual nozzle control to the iXtrack T3. Boom options include the HSS steel boom from 18-30m, and the HAS aluminium boom from 21-24m.